Overview
Built for the long run.
Filtration is critical for turbine engines. If sub-micron particles, liquids and dissolved contaminants like air and water-borne salt aren't captured by filters, they can enter the engine — resulting in compressor fouling and more severe problems like blocked cooling passages, blade erosion and hot gas corrosion. Ultimately, these issues can lead to lower power output, higher fuel consumption and more frequent repairs and replacement of high value parts.
E12 high-efficiency particulate air (HEPA) filters from Gore are engineered to keep your turbines up and running for the long haul. This durable watertight filtration technology is proven to:
maintain clean engine performance
 minimize downtime
 lower maintenance costs over the filter's lifetime
Gore's proprietary thin, three-layer composite prescreens larger contaminants, captures smaller contaminants, and blocks water droplets with its naturally hydrophobic ePTFE (expanded polytetrafluoroethylene) membrane — allowing only pure air through.
Advanced media developed specifically for ambient air filtration, proven with millions of operating hours globally.

Three-layer, 100% synthetic composite with depth loading layer, hydrophobic ePTFE membrane and strong pleated backer support.

---

 
By preventing ingestion of both dry and soluble contaminants, Gore's HEPA technology practically eliminates compressor fouling over a long lifetime. Our uniquely engineered filters deliver the best ROI (return on investment) in challenging applications throughout many industries. You'll notice the difference right away, but you'll notice it even more in the long run.
Upgrading to GORE Turbine Filters with E12 hydrophobic HEPA technology has provided enormous value to rotating equipment users. These filters are designed to ensure a simple retrofit replacement of your current filters and in most cases, without filter house modifications. They deliver the greatest benefits to operators running intermediate and base load engines, who experience losses in compressor efficiency and power output due to fouling and who seek protection from corrosion due to salt ingestion. These systems are the high-usage, mission-critical engines where failure is not an option.
To learn more about GORE Turbine Filters, view our customers' success stories or contact us to discuss your application with an experienced engineer.
E12 HEPA Classification
Filter performance ultimately comes down to the inherent characteristics of the filter media. The most important factors to consider when selecting a filter are efficiency, hydrophobicity, initial differential pressure (dP) and long-term dP (lifetime). 
Only GORE Turbine Filters can offer industry-leading performance in all of these categories at once. This performance has been proven globally in the most challenging environments and delivers a positive economic ROI on gas turbines large and small.
| EN1822 Rating | Efficiency at MPPS |
| --- | --- |
| E10 | ≥ 85% |
| E11 | ≥ 95% |
| E12 | ≥ 99.5% |
Product Offerings
Our cartridge-style filters are able to be pulse-cleaned. Pulse cleaning can be very useful depending on the local environment. In cold-weather regions where ice can form on the filter and in dry regions with sand storms, on-demand pulsing can be very effective. Programming of the pulse system should be optimized for the application.
Pulse cleaning our filters is not required or beneficial in environments where icing or heavy sand loading isn't present. Broad industry experience has shown that pulsing is ineffective at dislodging sticky submicron particles like hydrocarbons.
Compare GORE Turbine Filters

Conical & Cylindrical Filter Pair

Cylindrical Filters

Pulse Panel Filters

V-Panel Filters

Z-Panel Filters
Operational Mode
Pulse cleanable & static
Pulse cleanable & static
Pulse cleanable & static
Static
Static
Filter Media
Fully synthethic composite with ePTFE membrane
Fully synthethic composite with ePTFE membrane
Fully synthethic composite with ePTFE membrane
Fully synthethic composite with ePTFE membrane
Fully synthethic composite with ePTFE membrane
Structural Components
Galvanized Steel
Galvanized Steel
Galvanized Steel
Polymer
Polymer
Potting
Polyurethane
Polyurethane
Polyurethane
Polyurethane
Polyurethane
Gasket
EPDM Rubber
EPDM Rubber
PU Foam
PU Foam
PU Foam
Efficiency
E12 according to EN 1822 Min 99.5% @MPPS
E12 according to EN 1822 Min 99.5% @MPPS
E12 according to EN 1822 Min 99.5% @MPPS
E12 according to EN 1822 Min 99.5% @MPPS
E12 according to EN 1822 Min 99.5% @MPPS
Wet Burst Pressure
7500 Pa (30" wc)
7500 Pa (30" wc)
N/A
>6250 Pa (25" wg)
>5000 Pa (20" wc)
Initial Pressure Drop
180 Pa @ 2500 m3/h
(.72" wg @ 1472 cfm)
130 - 150 Pa @ 1000 m3/h
(.52 - .60" wg @ 588 cfm)
230 Pa @ 4250 m3/h
(.92" wg @ 2500 cfm)

V12: 235 Pa @ 3400 m3/h
(.94 " wg @ 2000 cfm)
V15: 180 Pa @ 3400 m3/h
(.71" wg @2000 cfm)
V18: 155 Pa @ 3400 m3/h
(.62" wg @ 2000 cfm)

135 Pa @ 3400 m3/h
(.53" wg @ 2000 cfm)
180 Pa @ 4250 m3/h
(.71" wg @ 2500 cfm)
Data Sheet Download
Conical & Cylindrical Filter Pair: Data Sheet
Cylindrical Filters: Data Sheet
Pulse Panel Filters: Data Sheet
V-Panel Filters: Data Sheet
Z-Panel Filters: Data Sheet
E12 vs. Alternatives
Not all HEPA filters deliver the same performance in the same applications or environmental conditions.
There are many variations of HEPA filter media being used in today's gas turbine industry.  Because these media types are composed of different fibers and layers, they work differently across various applications.
The filter media in GORE Turbine Filters is a three-layer composite that keeps fine particles, dirty water and salt out of the gas turbine.  Key differences are noted in the following:
efficiency
filter lifetime                                                                            
material strength
initial dP and long-term dP                               
filter durability        
maximum dP limit                                                 
water tightness
In our turbine filters' patented structure, the three synthetic layers work in concert to deliver outstanding performance.
The first layer is a high-efficiency, non-woven material that prescreens the larger particles and captures contaminants throughout the depth of the structure.
The second layer is ePTFE, which captures very fine sub-micron particles that pass through the pre-filter layer. Additionally, the ePTFE membrane has a tight pore structure, which makes it naturally hydrophobic and blocks liquid water and dissolved salts and contaminants from passing through to the turbine, dramatically reducing fouling.
The third and final layer is a robust synthetic backing textile that provides rigidity and very high media burst resistance.
The resulting laminate delivers high efficiency and water protection with low dP and proven filter lifetime.
Why E12 vs. E11 or E10 Filter Classifications
E12 HEPA filters block >99.5%, allowing <0.5%, effectively eliminating compressor fouling. The combination of hydrophobicity and high-efficiency filtration found in GORE® Turbine Filters is key to protecting the turbine.
E10 HEPA filters only block 85% of the particles known to cause compressor fouling, allowing 15% to enter the turbine — significantly reducing compressor efficiency. Additionally, most E10 filters don't eliminate water. Water carries salt (corrosion) and dirt (fouling) into the clean side of the turbine or compressor.
There are different HEPA ratings for a reason.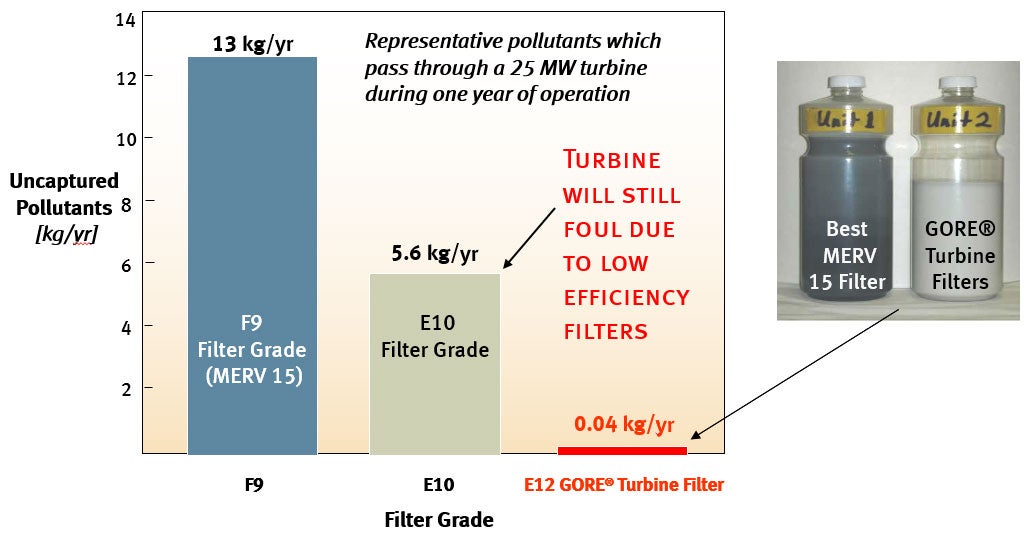 Benefits
Our filters benefit turbine engines in numerous ways:
Reduce Turbine Wear
Prevent blocking of cooling ports and overheating of blades
Prevent rotational imbalance from compressor fouling
Avoid cyclical thermal stress due to turbine stops and restarts for cleaning
Optimize Power Output
Eliminate power loss from compressor fouling
Eliminate fouling-induced heat rate increases
Prevent captured contaminants from rinsing through filters during periods of heavy rain or fog
Increase Turbine Availability & Reliability
Eliminate need for off-line compressor washing
Avoid risk of startup and shutdown failures
 Operate continuously at clean compressor efficiency
Reduce Salt Corrosion
Prevent liquid water ingress through filters
Stop penetration of airborne and waterborne salts
Reduce corrosion in compressor and hot section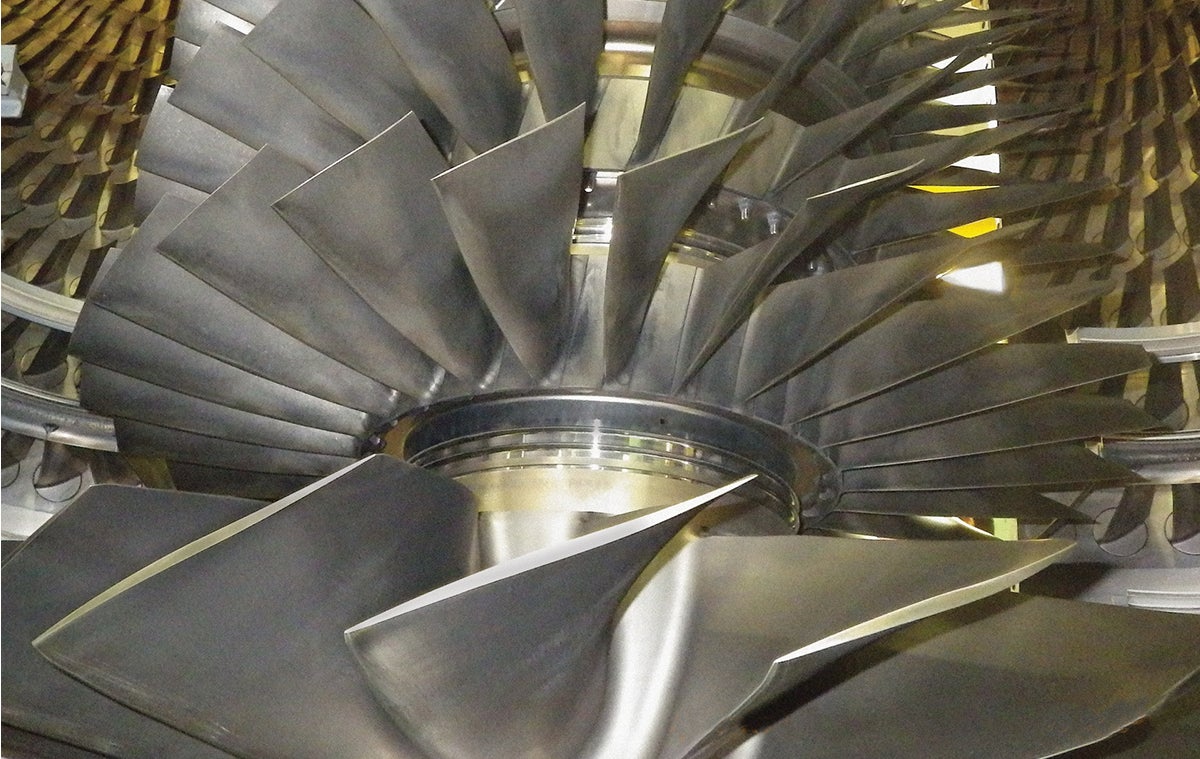 Data on file at W. L. Gore & Associates
Filter Lifetime
Turbine filter lifetime is subject to many variables. The first step to optimize E12 HEPA filter lifetime is to define your application.
What type of inlet filters are you currently using and how long do they last?
What is the overall airflow and flow per filter element?
How many hours does the system run per year? Is the unit considered peak, intermediate or base-loaded?
Are there local environmental challenges, such as heavy pollution, fog, insects or agricultural burning?
Influences Affecting Filter Longevity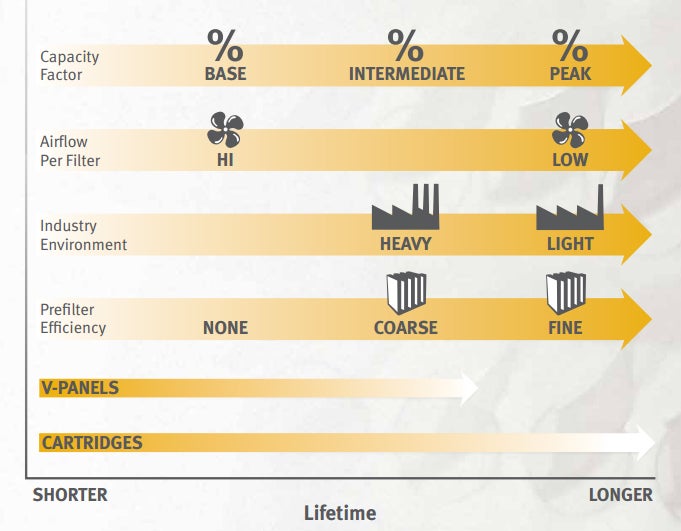 * Lifetime is subject to many variables. The cases and data presented are from our experiences in the market and are for guidance only. Typically, cartridge filters have longer service life compared to panels due to common designs of filter houses.
GORE Turbine Filters have a proven lifetime of two to four years in very challenging coastal and industrial environments.
PRESSURE DROP TREND OVER FILTER LIFETIME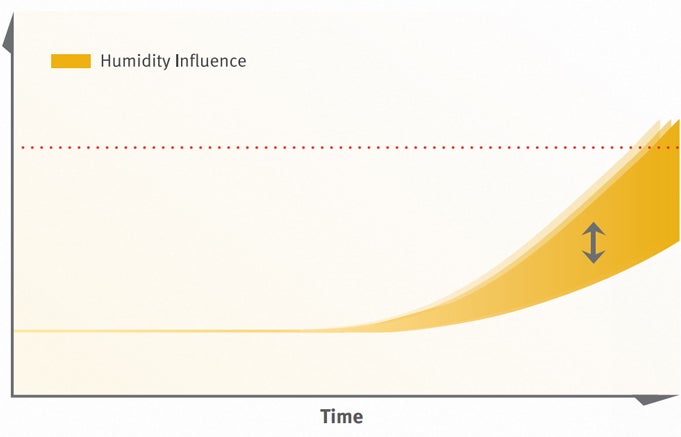 Trend monitoring of filter ΔP is the most reliable way to decide when to replace filters. This chart depicts the typical ΔP profile over the service life of a GORE Turbine Filter. When the ΔP trends upward and the influence of humidity grows, it is time to plan for filter replacement.
* Lifetime is subject to many variables. The cases and data presented are from our experiences in the market and are for guidance only.
Learn more about Filter Lifetime
Understanding HEPA Filter End of Life
It is important to understand what to expect when your E12 hydrophobic HEPA filters from Gore near the end of their service life.
HEPA filters are highly efficient and capture virtually all particles in an airstream over their lifetime. When the filters begin to approach end of life, ∆P trend monitoring will begin to show sensitivity to wet and humid conditions. However, the filters' patented multi-layer construction delays this effect, enabling long lifetime even in challenging conditions.
Case Studies
Our customers have seen the benefits of protecting their turbine engines with GORE® Turbine Filters. See the results based on filter type, environment and more factors.
Case Study: Turbine GE-7EA
| | |
| --- | --- |
| Turbine: | GE-7EA |
| Filter Config. | V-Panel |
| Hours/Year | 8,000 |
| Industry: | Petrochemical/Selling excess power to the grid |
| Location: | Gulf Coast |
| Environment: | High humidity. Heavy pollution from industry and agribusiness (sugarcane burn-offs). |
| Problems: | Extreme compressor fouling and lost production opportunity due to required quarterly shutdowns for water wash, and running at lower efficiency between shutdowns. |
| Solution: | GORE® Turbine Filters + MERV 12 pre-filter with G2 (progressive filtration) for increased protection against periodic contaminant loads. |
| Payoff: | Effectively captured contaminants. Eliminated compressor fouling and all washes, which reduced labor and material costs. This increased system uptime and power sold to grid, for greater profitability. |
| Filter Life (Yrs.) | 2 |
| | |
| --- | --- |
| Turbine: | GE-7FA |
| Filter Config. | V-Panel |
| Hours/Year | 6,500 |
| Industry: | Power Generation |
| Location: | Coastal Florida |
| Environment: | High humidity, high salt and severe storms. |
| Problems: | Extreme Corrosion: blades liberated from the turbine in catastrophic failure. Lost efficiency and higher downtime for frequent washes. |
| Solution: | Replace lower-efficiency competitive filters with GORE Turbine Filters (V-panel with MERV 8 pre-filter) for more effective protection from contaminants and corrosion. |
| Payoff: | Maintained consistently high compressor efficiency and power output, while eliminating salt ingestion which causes corrosion. |
| Filter Life (Yrs.) | 2+ |
| | |
| --- | --- |
| Turbine: | GE-LM2500 |
| Filter Config. | Pulse Panel |
| Hours/Year | 6,500 |
| Industry: | Gas Transmission Pipeline |
| Location: | Northern Canada |
| Environment: | Isolated forest/agricultural lands; extreme cold with snow/ice events. |
| Problems: | 3 shutdowns/year for water wash in remote areas with no water supply (truck it in/out). Lost 1-3% efficiency between washes. |
| Solution: | Direct replacement with GORE® Turbine Filters extended shutdown interval from 4 months to 3.5 years, with no efficiency losses due to fouling during that time. |
| Payoff: | Eliminated shutdowns and all costs associated with water washing in a challenging environment with no infrastructure for water supply or disposal. Eliminated fouling of cooling nozzles in hot section, maintaining constant firing temperatures and extending mechanical part life. |
| Filter Life | 3 |
Note: Laboratory test data is on file at Gore.
Resources
FOR INDUSTRIAL USE ONLY
Not for use in food, drug, cosmetic or medical device manufacturing, processing, or packaging operations